IRISH WADO RYU FEDERATION
               HISTORY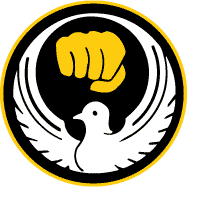 SENSEI DAN DONOHUE IS TRAINING IN THE MARTIAL ARTS SINCE THE 1950S HAVING STARTED OFF HIS FIGHTING CAREER IN AMATURE BOXING AND REPRESENTING HIS COUNTRY ON MANY OCCASIONS UNDER THE GUIDANCE OF CHARLIE HIGGENS.
IN THE 60S HE MOVED TO ENGLAND WERE HE CONTINUED BOXING AND STARTED HIS TRAINING IN WADO-RYU KARATE-DO.ON HIS RETURN TO IRELAND HE CONTINUED HIS TRAINING IN WADO-RYU UNDER YOSHIHIKO IWASAKI,SHIZUO(PETER) SUZUKI,AND TATSUO SUZUKI.
IN THE 70S SENSEI DONOHUE RECEIVED HIS BLACK BELT FROM JAPAN(HIRONORI OHTSUKA THE FIRST).SOME TIME LATER FOR HIS DEDICATION TO WADO-RYU HE BECAME PRESIDENT OF THE FEDERATION ALL IRELAND KARATE-DO WADO-KAI.AT THE TIME THIS WAS THE ONLY GOVERNING BODY FOR WADO-RYU IN IRELAND.
DURING HIS TIME AS PRESIDENT HE ORGANISED MANY SEMINARS AND NATIONAL  KARATE CHAMPIONSHIPS THAT WERE HELD IN THE MANSION HOUSE IN DUBLIN,THE NATIONAL BOXING STADIUM,AND THE INTERCONTINENAL HOTEL ALSO IN DUBLIN.THESE CHAMPIONSHIPS WERE AMONG THE FIRST TO BE TELEVISED BY R.T.E.
HE WAS ALSO A FOUNDING MEMBER OF THE IRISH KARATE CONTROL BOARD THAT TRIED TO UNITE ALL KARATE STYLES IN IRELAND UNDER ONE GOVERNING BODY.
IN THE 80S SENSEI DONOHUE STARTED HIS OWN ORGANISATION CALLED THE IRISH WADO-RYU FEDERATION WERE HE HAS COACHED HIS MEMBERS TO NATIONAL,INTERNATIONAL,EUROPEAN AND WORLD CHAMPIONSHIP SUCCESS.
SENSEI DONOHUE IS STILL AN ACTIVE MEMBER OF THE FEDERATION IN 2007 HE WAS INDUCTED INTO THE 20TH INTERNATIONAL BLACK BELT HALL OF FAME IN PITTSBURGH USA.AND IN 2008 HE WAS INDUCTED INTO THE OFFICIAL INTERNATIONAL BLACK BELT HALL OF FAME.