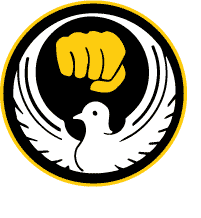 WADO-RYU KARATE-DO(EMPTY HANDED WAY OF PEACE OF SCHOOL) 
WADO RYU IS A MIX OF JUJUTSU AND SHURITE STYLE KARATE.
(SHURITE KARATE IS LIGHT AND FAST)SHURITE IS A REGION IN OKINAWA. 
WADO RYU WAS FOUNDED BY SENSEI HIRONORI OHTSUKA(1892-1982).SENSEI OHTSUKA STARTED HIS TRAINING IN JUJUTSU.AROUND 1921 THE OKINAWAN STYLE OF KARATE WAS INTRODUCED TO TOKYO.IN 1922 SENSEI OHTSUKA STARTED TRAINING IN KARATE WITH GICHIN FUNAKOSHI(THE FOUNDER OF SHOTOKAN KARATE DO).AFTER SOME YEARS TRAINING HE RECIVED HIS BLACK BELT FROM SENSEI FUNAKOSHI.AT THE END OF THE 1920S OHTSUKA STARTED TO DRIFT AWAY FROM FUNAKOSHI BECAUSE OHTSUKA WANTEN TO DO MORE FIGHTING(KUMITE).
BY MAY OF 1934 OHTSUKA KARATE WAS RECOGNISED AS AN INDEPENDENT STYLE AND IN 1940 THE WORDS WADO RYU WERE REGISTERED.
IN 1944 OHTSUKA BECAME CHIEF INSTRUCTOR OF ALL KARATE IN JAPAN
WHEN THE 2ND WORLD WAR ENDED IN 1945 ALL MARTIAL ARTS WERE BAND ,OHTSUKA COUNTINUED TO PRACTICE AND TEACH IN PRIVATE A LOT OF CLUBS PRETENDED TO BE DOING BOXING TO GET AROUND THE BAN.
IN THE 1950S KARATE WAS ALLOWED AGAIN.WADO RYU WAS INTRODUCED INTO SCHOOLS AND UNIVERSITIES AND PRIVATE CLUBS.
IN THE LATE 1950S COMPETITIONS BEGAN TO GET POPULAR.
IN THE 1960S WADO-RYU GAINED POPULARITY OVERSEAS,IN 1963 OHSUKA SENT A THREE MAN TEAM TO THE U.S.A AND EUROPE TO DO DEMONSTRATIONS COMPRISING OF TATSUO SUZUKI, TORU ARAKAWA AND HAJIMU TAKASHIMA.
OHTSUKA CONTINUED TO PRACTICE AND PERFORM DEMONSTRATIONS UP TO HIS DEATH ON 29TH OF JANUARY 1982.